French Teacher Training Course
Participate in thematic training modules to diversify and enrich your classroom practices by incorporating fun and intercultural dimensions.
THE PROGRAM
1 week: 5 modules (30 hours)
Module 1: redacting authentic documents.
Module 2: adapting teaching and learning strategies to student's profiles
Module 3: dynamise your oral practices in class
Module 4: including ICTs in your language class
Module 5: develop cultural activities with an educational goal
Active participation of all attendees
+
Dynamic training modules
+
Key tools for classroom management
+
Set up an evaluation grid adapted to your needs
METHODOLOGY
Our teacher training aims to update or develop your teaching practices in order to meet the expectations and needs of your target audience. Our dynamic training modules will familiarize you with differentiation, project pedagogy, interdisciplinarity or even the digital tools now essential to manage your class effectively. Turnkey tools and a bank of authentic supports will allow you to put together a brand new educational kit perfectly suited to your needs.
Acquire a globally recognised Alliance Française certificate
Subject to the participant's diligence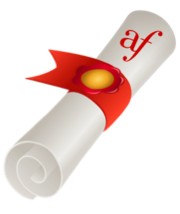 SYLLABUS
REDACTING AUTHENTIC DOCUMENTS
The goal of this module is to familiarise participants with the use of current authentic documents (comic books, press cartoons, cinema etc.) and to place them at the heart of your teaching sequence. You will assist in developing tools to facilitate intercultural and cross-disciplinary activities in your classroom.
STUDENT-BASED TEACHING STRATEGIES
Rethinking the whiteboard's role as a classroom management tool, managing interpersonal and intercultural differences of students and efficiently promoting collaborative work. While there are almost as many ways to learn as there are students, there are some teaching and learning strategies that will help you better understand your audience.
DYNAMISING ORAL PRACTICES IN THE CLASSROOM
The class' dynamic does not only depend on the diversification of activities and material studied, but also the techniques implemented by the teacher to stimulate the interest of the class. Thus, this module will guide you through the development of original techniques of phonetic correction and encouraging oral expression.
INCLUDING ICTs IN YOUR LANGUAGE CLASS
In addition to shedding light on the incredible variety of educational resources and platforms available on the internet, this module will also enable you to make use of all these tools effectively. Calling upon all skills, this course will help you awaken the curiosity and creativity of your students, while allowing you to tackle topical subjects.
DEVELOP CULTURAL ACTIVITIES WITH AN EDUCATIONAL GOAL
Twelve additional hours are added to the 20 hours of classes to cover cultural and educational activities. This module allows you to complete your kit of educational tools while discovering the French Riviera. You will also be required to put the knowledge and interpersonal skills acquired to practice through various role-playing workshops, tackling subjects such as class management and authentic French.
YOUR TEACHERS (non-exhaustive list)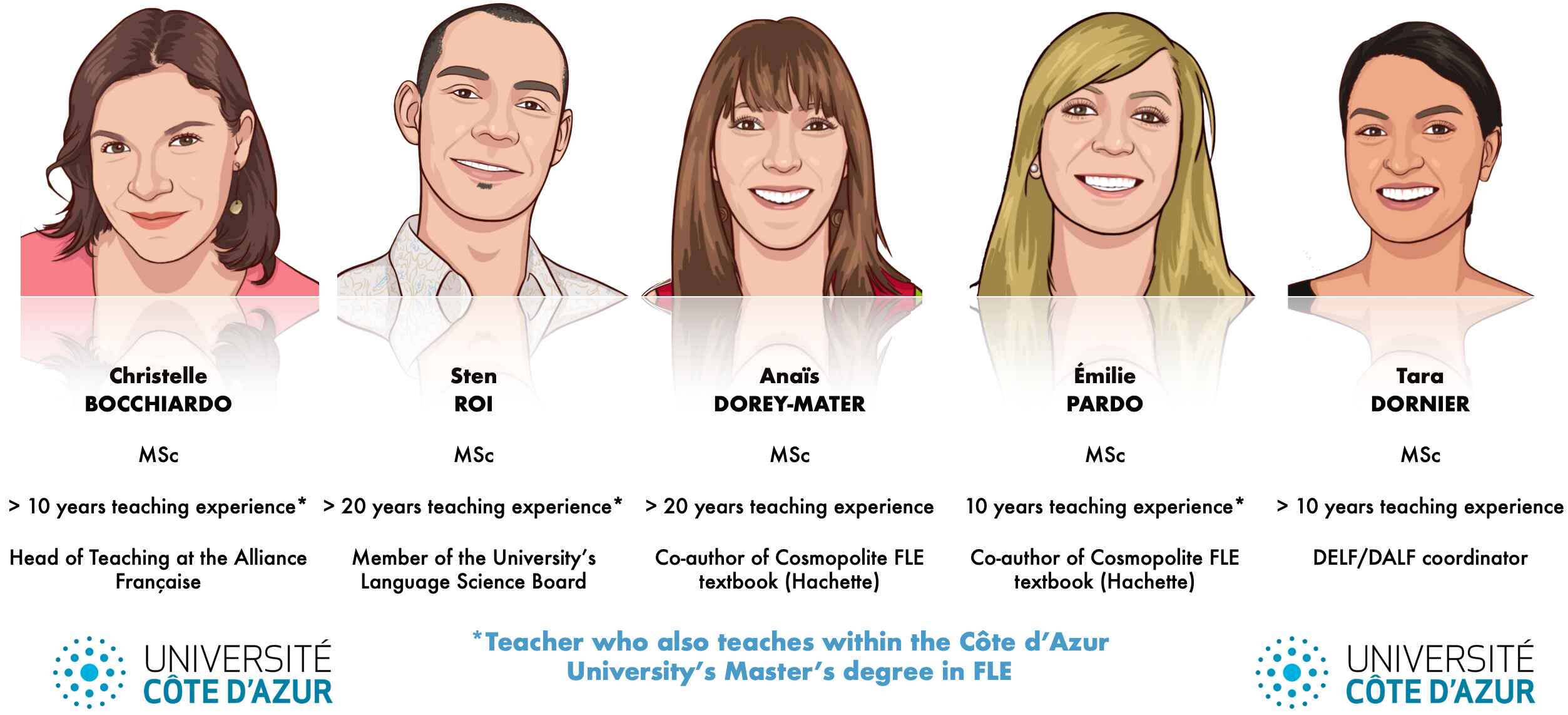 FINANCING & PARTNERSHIP
Possibility of partnering with ERASMUS+, PIC code of the Alliance Française de Nice: 898931011.
Possibility of scheduling FOS sessions "didactique du FLE" sessions (eligible for CPF funding).

I did the online teacher training course in November with the Alliance Française de Nice. Like many of us, I was quite skeptical and those around me told me that the online experience would never be the same as in person. And I can tell you that I was very surprised! I saw right away that the teachers have a lot of experience teaching online, we didn't even waste a minute! The digital platform offers a lot of options: throughout the course we had presentations, videos posted and we could ask the teacher our questions during time in more classic classes. Additionally, there is an option to work in small groups and you can send emojis to your class, what great fun! The teachers were very competent with computers, they provided help to the students who found it more challenging, so we had no problems at all in that respect (...). I would like to thank all the teachers of the Alliance Française de Nice! The course was very rewarding, I am already registered for the March session! And given the current context, I have no hesitation in choosing the remote option!
Tatiana ALBOMASOVA
Russe, enseignante de français.